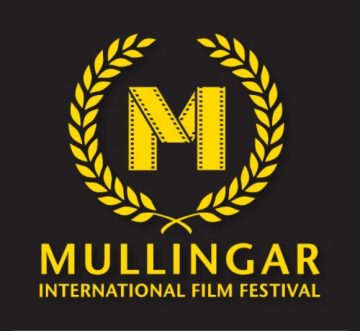 Mullingar, Ireland, January 28th, 2020 – The inaugural Mullingar International Film Festival, presented by Motion Picture Media, today announced its 2020 lineup of 7 award-winning short films, including an Irish Premiere from Hollywood.
The full programme features award-winning Irish and global filmmakers from the International Film Festival circuit.
The short films will be screened at a special gala event taking place in the Mullingar Park Hotel on February 20th, 2020, beginning at 7pm with a drinks reception.
The Festival will raise much-needed funds for T.E.A.M. (Temporary Emergency Accommodation Midlands), who deliver frontline support services for homeless women and children in the Irish Midlands.
The Festival was founded by Mullingar-based Noel McIntyre, award-winning Director of "I Created You" which profiles the work of renowned Westmeath Woodcarver, Richie Clarke. The film features an original score performed by the RTE National Concert Orchestra and has been screened at Film Festivals in 11 countries across 5 continents, winning 6 awards on the International Film Festival circuit. It was shot in Mullingar, and will be premiered for local audiences at the Festival.
McIntyre explained: "I wanted local people to see my film, in particular with the local subject matter, but the options were limited. I discussed a few ideas and in fairness to the Mullingar Park Hotel, they were super supportive from day one and said they would facilitate a screening as a sponsor and it started from there.
"We now have a major International Film Festival event on our hands and it's going to be a major fundraiser for our funding recipient T.E.A.M."
Festival attendees will be directly helping local families impacted by homelessness, whilst also inspiring local artists and filmmakers with this new cultural platform in Mullingar.
"We spent a great deal of time curating programs that reflect the diverse interests of our audiences," said Noel McIntyre, Founder of the Festival and Head of the Selection Committee. "We emphasise identity, community, and the short films selected for the Mullingar International Film Festival exemplify the mission of the Festival, which is to honour and promote the art of storytelling through film. Each film tells a powerful story; some of which are epic and heroic stories, and some of which are intimate, human stories. The diverse lineup is also entertaining for our audience with plenty of humour in the mix."
The Filmmakers screened at the festival will receive a unique, specially commissioned and handcrafted award by local master craftsman Richie Clarke from Clarke Woodcarving and the subject of the award winning film "I Created You" – in recognition of their stories told on film, and to inspire them for the future stories they'll craft.
Short Film Selection: Epic and Intimate Stories from around the world.
This program is suggested for those 16 and older.
I CREATED YOU, directed and written by Noel McIntyre (Ireland) – Local Premiere. Profiling renowned wood-carver Richie Clarke as he crafts a sculpture of King Malachy – High King of Ireland for Belvedere House and Gardens on the shores of Lough Ennell in Mullingar.
TIN CAN, written and directed by Pat Battistini, Hollywood (USA) – Irish Premiere. The story of J.C. – an illegal child immigrant from Mexico who still lacks U.S. citizenship. He has persevered and prospered working as a rodeo clown for years, but he finds himself down on his luck near the Mexican border where he risks getting kicked out of the only country he knows.
FIRST DISCO, written and directed by Helen O' Reilly (Ireland), with Jim Sheridan executive producer (Ireland). It's 1983 and Kelly Harrison is not only experiencing her first crush and going to her first disco – but she gets landed with a mouthful of "train tracks" braces right before her big night.
THE BLIZZARDS – BEHIND THE MUSIC, directed by Jeff Doyle (Ireland) – Local Premiere. Director Jeff Doyle and crew followed The Blizzards and their manager, Duncan Browne, around for a full year, capturing exclusive backstage action to create this mockumentary – the likes of which has not been seen since Spinal Tap!
THE FAMILY WAY, written and produced by Roisin Kearney (Ireland). The Murphy family are at a crossroads; their two daughters are about to fly the nest. Mammy and Daddy are considering selling the family home and downsizing… UNTIL two pregnancy tests are found in the bathroom drawer. But who's pregnant???
THE VASECTOMY DOCTOR, directed by Paul Webster (Ireland). The story of Dr. Andrew Rynne, the first vasectomy doctor in Ireland, reproductive rights activist and a controversial figure in seventies and eighties Ireland. Rynne survived an attack in his clinic by an armed gunman who he later met and forgave.
ANGELS GUARD THEE -Starring John (Banjo) Quinn and Brian Fortune (Game of Thrones) Two aging ex-paramilitaries meet for the first time in almost thirty years. Over the course of a weekend, the pair attempt to reconnect, reminisce and heal old wounds, but the secrets of the past won't let the present lie.
Passes and Tickets.
Tickets are available at the venue, at various outlets locally, and online: https://bit.ly/2u0h6Xt
Single tickets cost €20.00 for the full Festival programme, and cocktail reception.
About the Mullingar International Film Festival:
The Mullingar International Film Festival, inaugurated in 2020, celebrates, honours and promotes the art of storytelling through film from emerging and established Irish and International filmmakers.
2020 is the first year the Festival has taken place, and plans are underway already for the 2021 event. The Festival was founded by Noel McIntyre, with a view to celebrating and elevating the art of film in the Irish Midlands. This year's festival will take place on February 20th, 2020.
#MIFF
Facebook: https://www.facebook.com/events/489734545082243/?active_tab=discussion
About 2020 Mullingar International Film Festival Sponsoring Partners:
We thank our generous Sponsors, including:
Leinster Farm Machinery, Tom Duffy Financial Services, Shay O'Brien Tax Consultant, First Citizen Finance, Photo-Me Ireland, Scannervision, Keanes Care Plus Pharmacies, Decotek, Gerry Duffy, National Science Park,  O'Brien Motor Group, ACE Life & Pensions, Robotics & Drives, Flagship Signs and Design, Mullingar Opticians, Bell Homes, Lift Hire Ireland, Power Washing Ireland, LandCorp Private, Kellbuild Ltd, Fagan Office Supplies, Clarkes Bar, Motion Picture Media, and Ideation Marketing.
Press Contacts:
Mullingar International Film Festival/Motion Picture Media:
Noel McIntyre, 086 2500899/ media@motionpicture.ie
Elaine Bradley-Ryan, 087 109 4522 / elaine@ideationmarketing.ie