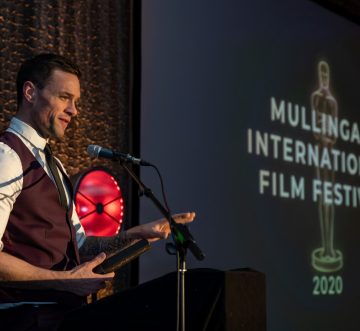 INAUGURAL MULLINGAR INTERNATIONAL FILM FESTIVAL® presented a line up of award winning narrative and documentary film selections.
Mullingar, Ireland, February 20th, 2020 – The inaugural Mullingar International Film Festival, presented by Motion Picture Media, took place in the Mullingar Park Hotel on February 20th, 2020.
Seven award-winning short films, including an Irish Premiere from Hollywood and three films with strong Mullingar connections, were screened for a 600-strong Mullingar audience. The Festival raised funds for T.E.A.M. (Temporary Emergency Accommodation Midlands), who deliver frontline support services for homeless women and children in the Irish Midlands.
Awards were presented by local Blizzards frontman, Bressie, who lauded the courage and creativity of the Filmmakers and the Festival team – who followed their dreams to "deliver something very special". He went on to say:
"An event as huge as this requires a whole community to come together. You have someone like Noel McIntyre come up with a BIG vision, a group of people to deliver it, and the whole community to get behind it. People are choosing to support the arts by embracing something as creative as this, buying tickets, and even introducing their children to this artform. Mullingar is awash with creativity and energy at the moment, and to produce an event of this calibre in the first year is extraordinary. They have done something very special – and something that will grow from here".
Bressie also drew attention to the fundraising element of the event, pointing out that charities are providing critical frontline support in the local community, and are  desperately needed at a time when public services are failing to meet community needs. 'The Blizzards – Behind the Music' short film directed by Jeff Doyle, was one of the award winners on the night and a big audience favourite.
The screening of "Tin Can", was another highlight of the evening. Director Pat Battastini accepted his award via live web-link from his home in the Hollywood Hills. Thanking the Festival and the organizers, he also drew attention to the generosity of corporate Sponsors, and the audience.
"Filmmakers pour their hearts into their films, and we do it for you – our audience. Without people having the interest to support these events, buy tickets and go see independent films, they would stay on our hard drives forever! The theme of my film was kindness, and Noel McIntyre and the people of Mullingar have shown us great kindness. Go raibh mile maith agat!".
The Festival was founded by Mullingar-based Noel McIntyre, award-recipient and Director of "I Created You" which profiles the work of renowned Westmeath Woodcarver, Richie Clarke. McIntyre's film has been screened at Film Festivals in 11 countries across 5 continents, winning 6 awards on the International Film Festival circuit. It was premiered for local audiences at the Festival, to rapturous applause.
In his acceptance speech, McIntyre thanked the Audience who came out to celebrate the art of storytelling through Film, and to support a great community charity. He spoke of his own decision to pivot his career and his life in order to follow his dreams as a Filmmaker. McIntyre was strongly influenced by his late uncle, Tom McIntyre, the poet and playwright, as he explained in his speech.
"My uncle was once asked what advice he would give to young people wanting to get into writing, poetry, theatre or the arts. He said – "Learn to trust your dreams. Learn the language of your dreams."
It was short, sweet, and simple – but those words profoundly inspired me at the time, and have never left me since. I decided to trust my dream and I'm living it now. Filmmakers are dreamers and storytellers, and the language of our dreams is Film".
McIntyre thanked the team of competent, motivated and professional people who shared his vision for the event and brought it to reality. Particularly, he thanked his wife Katie – an ardent supporter of all his "dreams and notions" over the years, and his son Conor, whom he promised to encourage in chasing his own dreams. He thanked the Directors who were initially talked into screening their award winning films at a new and unknown festival in Mullingar. He praised Elaine Bradley-Ryan and the Ideation Marketing team for flawless marketing and management of the event, the event coordination team at the Mullingar Park Hotel, Nolan Sound Ireland for the big screen production, and especially his Corporate Sponsors – local businesses who donated generously to the event and enabled him to launch it.
"Our business sponsors from the community were enormously supportive and enthusiastic from day one and that gave our event real momentum" he commented.
The Audience enjoyed a diverse mix of narrative and documentary films during the evening's screening. These short films embodied the mission of the Festival, which is to honour and promote the art of storytelling through film. "We celebrate diversity, identity and community in the stories told by these films; some are epic and heroic, and some are intimate, human stories. We also wanted to delight and entertain our audience and give them a great night out" said McIntyre, speaking at the launch of the Festival in Mullingar.
All Filmmakers featured at the festival received a unique, specially commissioned and handcrafted award by local master craftsman Richie Clarke from Clarke Woodcarving.
Film line-up:
THE FAMILY WAY, written and produced by Roisin Kearney (Ireland).
TIN CAN, written and directed by Pat Battistini, Hollywood (USA) – Irish Premiere.
THE VASECTOMY DOCTOR, directed by Paul Webster (Ireland).
ANGELS GUARD THEE, directed by Robert Higgins and Patrick McGivney (Ireland).
THE BLIZZARDS – BEHIND THE MUSIC, directed by Jeff Doyle (Ireland) – Local Premiere.
FIRST DISCO, written and directed by Helen O' Reilly & Jim Sheridan executive producer (Ireland).
I CREATED YOU, directed and written by Noel McIntyre (Ireland) – Local Premiere.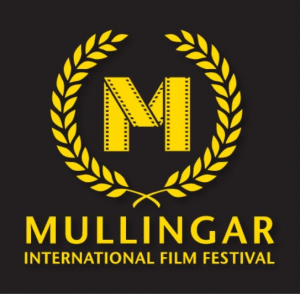 About the Mullingar International Film Festival:
The Mullingar International Film Festival, inaugurated in 2020, celebrates, honours and promotes the art of storytelling through film from emerging and established Irish and International filmmakers.
2020 was inaugural event, and plans are underway already for the 2021 event. The Festival was founded by Noel McIntyre, with a view to celebrating and elevating the art of film in the Irish Midlands. #MIFF
Facebook: https://www.facebook.com/events/489734545082243/
Mullingar International Film Festival Sponsoring Partners:
Leinster Farm Machinery, Tom Duffy Financial Services, Shay O'Brien Tax Consultant, First Citizen Finance, Photo-Me Ireland, Scannervision, Keanes CarePlus Pharmacies, Decotek, Gerry Duffy, National Science Park,  O'Brien Motor Group, ACE Life & Pensions, Robotics & Drives, Flagship Signs and Design, Mullingar Opticians, Bell Homes, Lift Hire Ireland, Power Washing Ireland, LandCorp Private, Kellbuild Ltd, Fagan Office Supplies, Clarkes Bar, Motion Picture Media, Ideation Marketing, Minds I Graphic Design.
Press Contacts:
Mullingar International Film Festival/Motion Picture Media:
Noel McIntyre, 086 2500899/ media@motionpicture.ie
Elaine Bradley-Ryan, 087 109 4522 / elaine@ideationmarketing.ie